Happy 4th anniversary Moulin Rouge!!
On this day, 4 years ago, Moulin Rouge graced cinema screens worldwide. Today marks its 4th anniversary/birthday of its release. I'll be watching the movie tonight and reliving the wonder that is Baz Luhrmann. This movie was nominated for the 2002 Oscars for Best Picture, but lost to A Beautiful Mind which is another exceptional movie. Baz took a HUGE risk with this film, he wanted to re-invent a genre that was almost going to be erased from our time. I believe he successfully did that with this film.
Here's to you Baz for taking an enormous risk ------------ and succeeding. We salute your uniqueness for directing and your movie tonight!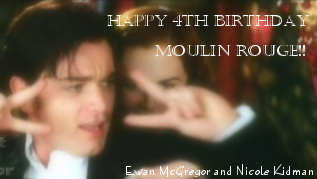 STAR WARS REVENGE OF THE SITH REVIEW IS BELOW!!