Fandoms....they are truly ways of life....
Ok, so you've probably noticed the new layout! It's called
Legacy
because the two relationships that are represented in the graphic (Christian & Satine and Josh and Lexie Groban) are in fact
legacies
of their own. One is from a movie, the other from a fictional story. I highly recommend checking out both.
So, I thought that to start off this new layout, I should share some of my favorite fictional relationships and some of the songs that remind me of them.
((Graphic Heavy)) --
Downloadable music files below!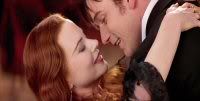 Ship:
Christian & Satine
From:
Moulin Rouge
Song:
Elephant Love Medley
or
Come What May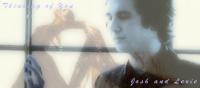 Ship:
Josh Groban & Lexie London
From:
Through the Night
(Fanfiction)
Song:
Happy:
A New Day Has Come -- Celine Dion
Sad:
Batman Begins Soundtrack Track 11 -- Corynorhinus
Ship:
Obi-Wan Kenobi & Padme Amidala
From:
various fanfictions written on the net, inspired by Star Wars
Song:
With or Without You -- U2
Ship:
Harry Potter & Hermione Granger
From:
various fanfictions written on the net, inspired by Harry Potter
Song:
none :(
Ship:
Aragorn & Arwen
From:
Lord of the Rings
Song:
The Evenstar
------------------------------------------
Again, these are only some of the pairings that I like, trust me there are a lot more, but I felt that the best should be mentioned here.
In other news:
---I finally got my JGF wristband!!!
---I also have a BORDERS "Care" wristband!
---I bought, The Island, Batman Begins, The Best of Mandy Moore, The Thief Lord, and The Crueling Miles, which are both books.
---MY BIRTHDAY IS COMING!!! (August 10th)