Back from vacay.......SUPPORT SUPPORT SUPPORT!!HELP STOP POVERTY!! MAKE YOUR VOICE HEARD!!!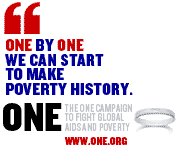 ONE.org

Sign the Live8List now! They don't want your money, only your voice!
Live8List.com
AOLMusic.com
Josh Groban and Sarah McLaucghlan (sp?) performed "Angel" at the Philly branch of the Live 8 concerts! They rocked the house! Go to AOL Music to see re-broadcasts of the concert!
Click here to download the performance
Click here to download the MP3

Support the Josh Groban Foundation! Get your wristbands!
GrobanitesForCharity.org
Oh yeah and I'm back from vacay...I'll post about it some other time.