Harry Potter and the Half-Blood Prince and what I did over the weekend!
Well, when I got home from work on Friday I was majorly pissed, upset and depressed and I'd rather not talk about it on here, cuz there are people who read my blog from work. So I was extremely glad that I went to the HBP party in Oak Park, IL to celebrate the release of the book! (I'll try and see if I can get pictures later!)
We all dressed up and by we I mean, me, my sister and her fiend Chrissy. Lin was a Slytherin, Chrissy and I were Gryffindors! I was the only one that didn't have a tie and I was so sad about it!
Basically we walked around Oak Park Ave. and looked at all the shops that were decorated with some of the names from the book. (Leaky Cauldron, Three Broomsticks, Flourish & Blotts) We took lots of pictures with people who were dressed up, including Gilderoy Lockheart and Narcissa & Lucius Malfoy, Professor McGonagall and a girl who was dressed up as Prof. Trelawney) There was actually a Weasley family walking around but we never got around to a picture with them. :(
I actually bought a Hogwarts Acceptance Letter from a bookshop and this really nice lady was writing them out for people. You had a choice if you wanted it mailed or not, I wanted it mailed so hopefully it'll be coming soon.
We got A LOT of compliments about our costumes including where did we get them. We always said Party City and people's reactions were always "where is that? is it a store?" Like DUH!!!
There were also some really cool stuff going on in the Scoville Park across the street. Some of the bands that were playing were really horrible. (The Sharp Cookies)
But the re-enactment crew was pretty cool. There were also tables set up with cool HP stuff. One had copies of every book signed by J.K. Rowling, that were priced at thousands of dollars! There were also first editions and advanced copies of the books (books that were pre-released before the actual books were made) Then there was a guy who painted HP portraits and would paint you if you wanted him to.
We only stayed until about 10:30pm, because parents wanted us home by a certain time. By the time we left, people were already lining up for the book.
We met this really cool Slytherin guy who we kept bumping into a lot throughout the evening. No picture though. It was an awesome night, but I got my book only yesterday around 6pm.
I finally saw
Batman Begins
! It was majorly cool and
Christian Bale
is HOT!!
OMG, the newest issue of EW (Entertainment Weekly) has Ewan and Scarlett on the front cover!!!!! *Squee* It's about the Island! Go pick it up now!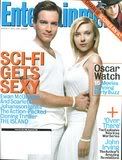 MY SCAN!!! DO NOT HOTLINK OR COPYRIGHT INFRINGE!
(do not think it's yours)
<------- Check out my sexy new wallpaper! Meow!
*SQUEEE!!!!* THE ISLAND COMES OUT THIS FRIDAY!!!